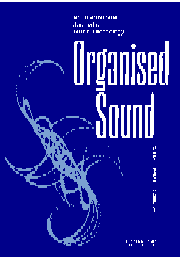 My interactive sound piece <a href=index.jsp?metaId=res&id=proj">etherSound</a> will be performed at the MIDAS conference in Glasgow on Saturday May 8.
At the conference I will also present my paper 'etherSound - an interactive sound installation'. You can read it here.
An other paper, co-written with Miya Yoshida (who originally commissioned the piece) about etherSound, 'New communications technology in the context of interactive sound art: An empirical analysis'will be published in the Cambridge journal Organised Sound.